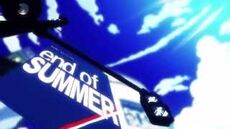 The End of Summer Tournament (E.O.S.) is the most prestigious high school stride tournament East of Japan. It is hosted every year to decide the best high school stride team. Each team from the 64 high schools around East Japan compete to qualify in the 16 team group stage, then an 8-team tournament in a single knockout tournament in a series of stages. In the Final Four, teams will be competing in a non-elimination Time Trial to determine seedings for the semi-final matchup, then a month later will be the semi-final matches, then the final match will be two weeks after that. The 'season' starts in April and finishes just before September.  
An exhibition event that takes place a month before the actual Trial Tour. The event is usually held around shopping districts and streets.
E.O.S.T.T. 17 Schedule
E.O.S. Playoffs
Time Trial - Sapporo Dome
Semi-Finals - Smile Land, Tokyo
Final - Shibuya, Tokyo
Trivia
Sapporo Dome also hosts the End of Summer Time Trial seedings for the Final Four. It is the first of two stages that starts from indoors (after Smile Land) of the entire tour. It is the only race in the actual tour where there is NO elimination.
Smile Land, the site of E.O.S. Semi-Finals, is a reference to Tokyo Disney World due to the 4th leg starting in Tokyo Bay.
The Shibuya course is the only stage where the first zone has no gimmicks, and held the first ever 'Naked Speed' event, Joe Sakurai was the event organiser.
References
Community content is available under
CC-BY-SA
unless otherwise noted.